Fall Fun on Long Island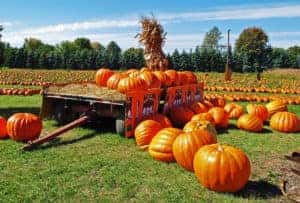 With the month of October only a little over a week away, it's best to plan your weekends ahead of time so you can do all the things you enjoy during the crisp fall weather!
Long Island is one of the most exciting places to be during this beautiful season due to the numerous amounts of activities and events happening all across the Island. Fall on Long Island means apple and pumpkin picking, drinking all kinds of cider and pumpkin beers, eating pumpkin flavored foods, Halloween celebrations, and many fall festivals.
In order to get the most out of the season before winter hits, we here at Competition BMW of Smithtown have compiled a list of activities and events happening in the Long Island area.
Harbes Family Farm Apple Picking
Time: Weekends 9Am-6PM
Location:  5698 Sound Ave, Riverhead
Saturday, September 21st
Long Island Hop Festival
Time: 12:30-4:00 PM
Location: Jamesport Farm Brewery
Saturday, September 21st & Sunday, September 22nd
Long Island Fair
Time: 10-5 PM
Location: Old Bethpage Village Restoration
Saturday, September 28th
Fall Festival
Time: 10-4:30PM
Location: Cold Spring Harbor Fish Hatchery & Aquarium
Saturday, September 28th
Pour the Core
Time: 12:30-5:00 PM
Location: Heckscher State Park
Saturday, September 28th
Wildwood Fall Festival
Time: 11-4 PM
Location: Wildwood State Park
Friday, October 11th– Monday, October 14th
Long Island Fall Festival
Time: Friday: 5-9 PM, Saturday & Sunday: 11-9 PM, Monday: 11-5 PM
Location: Heckscher Park
Saturday, October 12th-Sunday, October 13th
31st Annual Farmingdale Fall Street Fair
Time: Saturday: 11-5 PM, Sunday: 10-4 PM
Location: Main Street, Farmingdale
Saturday, October 12th-Sunday, October 13th
Famous Food Festival
Time: 10-7 PM
Location: Tanger Outlets Deer Park
Saturday, October 19th
Long Island Fall Beer Festival
Time: 12-5 PM
Location: 875 Conklin Street, Farmingdale
Fall weather is beautiful but it can get a bit chilly at times. Although these are only a few of the many events and activities going on this fall on Long Island, we suggest travelling in comfort and style wherever you decide to go this season.  The New 2019 BMW X5 is perfect for this time of year. With front and rear heated seats, a panoramic roof, all-wheel drive and navigation, the 2019 BMW X5 allows you to enjoy the season to the fullest. For those who don't mind the crisp air, the New 2019 BMW 2 Series M240i xDrive Convertible is another great way to enjoy the warmer weather while it's still here!
Wherever you end up this season, whether it be out east in Montauk or on the South Shore, be sure to stop by Competition BMW of Smithtown located at 599 Middle Country Road Saint James, NY 11780! Whether you are looking for a brand new car or a pre-owned, our amazing team will help you find the car of your dreams! Contact us at (631)-265-2208 to speak with a Sales Consultant or to learn more about our vehicle specials.