College Graduate Program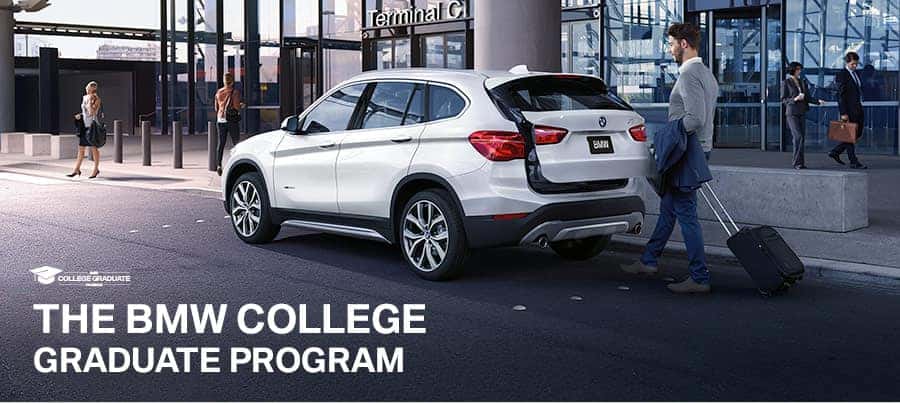 BMW Financial Services is delighted to announce the continuation of the Lease/APR Incentive for the College Grad program! Recent College graduates those from various colleges and Universities, for example, Stony Brook University or NYU, are eligible for Lease/APR Incentive of $1,000 towards the lease or finance of any Certified, Pre-Owned BMW. This $1,000 incentive can be used in conjunction with that month's available Lease/OC/Select/ Retail Sales Support or Regional programs. It is our hope that this program will build personal relationships and long-term business opportunities with a newer, younger generation of BMW enthusiasts.
Program Details:
$1,000 towards the Lease or finance of a certified pre-owned BMW
Super Elite rate for all Standard Plus customers and up.
Advance based on FICO score and income
Security deposit waiver, unless stipulated by credit
Applicable to certified Pre-owned vehicle contracts
Program Criteria:
Graduation from an accredited college or university, within the U.S., with an Undergraduate, Graduate, or Associate's Degree earned within the previous 24 months or eligibility for graduation within the next 6 months, with a verifiable offer of employment
A copy of the graduate's diploma or official transcript
POI or employer letter with the Human Resources title, and income.
At least 6 months of credit file- no previous derogatory credit on any trades
Gross debt to income ratio of less than 45%
Gross automotive payment to income ratio of less than 20%- Security deposit waived unless stipulated by credit.
Program Eligibility
Customers must purchase or lease a qualifying CPO BMW from an authorized BMW dealer.
If a co-signer is included on the credit application, in order to qualify for this incentive, the graduate still must meet all of the program criteria.
BMW College Grad Incentive is non-transferable to other family members or friends outside the household.
Program Guidelines
Customers need to meet the requirement set by BMW FS for program criteria
Customers must contract through BMW Financial Services using a Lease, Prepay Lease, OwnersChoice, Select, or Retail Finance Contract. $1,000 College Grad Incentive can be used with either Sales Support or Regional Rates.
College Grad Incentive is available for all CPO BMW purchases between 1/3/2019 to 1/2/2020 and RDR'd through DCSNet by 1/2/2020
$1,000 College Grad Incentive can be used in conjunction with any applicable cash programs unless specifically excluded in the program details.
An application must be submitted to the Credit Department as a College Grad Application in Infobahn to qualify.
To Receive Payment
The College Grad Lease/APR Incentive form on the following must be included in the funding package to receive payment. Failure to submit proper documentation will result in non-payment.
The $1,000 Lease/APR Incentive must be properly disclosed on the Lease, Prepay Lease, OwnersChoice, Select, or Retail Contract. Failure to properly disclose will result in non-payment of Lease/APR Incentive
Self Serve Funding IS available for these contracts
The Lease/APR Credit Payment will be made by BMW Financial Services at the time of contract approval, once the disclosures have been verified. The Lease/APR Incentive will be added to your dealer advance at the time of funding. Please contact BMW FS immediately if the Lease/APR Incentive is not included on your dealer advance.
At Competition BMW of Smithtown, we are happy to assist college graduates in finding a BMW they will love. Call us at (888) 861-6280 for more info or Visit our dealership at 599 Middle Country Rd. Saint James, NY 11780!
Your new BMW awaits!
Visit Competition BMW of Smithtown on 599 Middle Country Road in St. James today to speak with a Client Advisor about leasing or purchasing the perfect BMW for you. Competition BMW of Smithtown is located near the Smith Haven Mall in Lake Grove, NY and about 15 minutes away from Stony Brook University and 20 minutes from MacArthur Airport! Call us today at 888-734-3331 to schedule your appointment. Visit our website to learn more about our inventory of new and pre-owned vehicles such as the 2021 BMW X1, 2021 BMW X3, 2021 BMW X5, 2021 BMW X7, 2021 BMW 2 Series, 2021 BMW 4 Series, 2021 BMW 7 Series, 2021 BMW Z4, BMW M, 2021 BMW i3 Electric Vehicle, and so many more. Additionally, check out our Lease Specials, Service Specials, and Parts Specials.