BMW COVID-19 Process
Competition Auto Group in conjunction with New York State Effective May 19,  will honor the CDC's "Interim Public Health Recommendations for Fully Vaccinated People". 

Sales Department Procedures
Our Sales Department is open and ready to help you with your BMW shopping needs; Following all New York State guidelines we ensure your safety is our top priority. Our Smithtown showroom is operating as normal following all CDC suggested guidelines.
Off-Site Deliveries
What is your policy regarding off-site BMW deliveries? Our team is trying to limit off-site deliveries at this time, but we are making allowances for certain situations.
How far will you go to deliver my new BMW? Currently, we offer limited Delivery requests, however, we will service all of Long Island including Brooklyn and Queens.
How is my new BMW getting prepped for delivery? We've trained our detail department using CDC guidelines to clean and fully sanitize all New and Pre-owned cars for delivery. This includes a final sanitation of all touch-points used by the last driver of your vehicle.
Who is processing the deals following delivery?  Paperwork will be handled using CDC recommended PPE equipment of gloves and face masks by our Business Manager and DMV clerk. We will email customers their digital copies and can physically mail their copies at a later date.
Clean Processes
What is your process to ensure the delivery of a fully clean and sanitized BMW vehicle? We utilize plastic seat covers, steering wheel covers, and shift covers during our cleaning process to minimize contact with the common touch-points in your new car during the detail process. All touch-points are then wiped down with disinfectant spray.
Legal Compliance
What is the process for ensuring all documentation is compliant and identities are verified? We pride ourselves on following all compliance guidelines, and will continue to do so throughout this time.
How will I fill out the necessary paperwork? We will gather all required information needed electronically prior to delivery, and complete the necessary identification verification in person when you come to pick up your vehicle. We will also ask that you hold your photo ID up to the iPad when signing out for verification.
Lease Returns
Can I return my BMW lease at this location? We can assist you with your lease return by appointment Monday- Friday from 10AM to 5PM.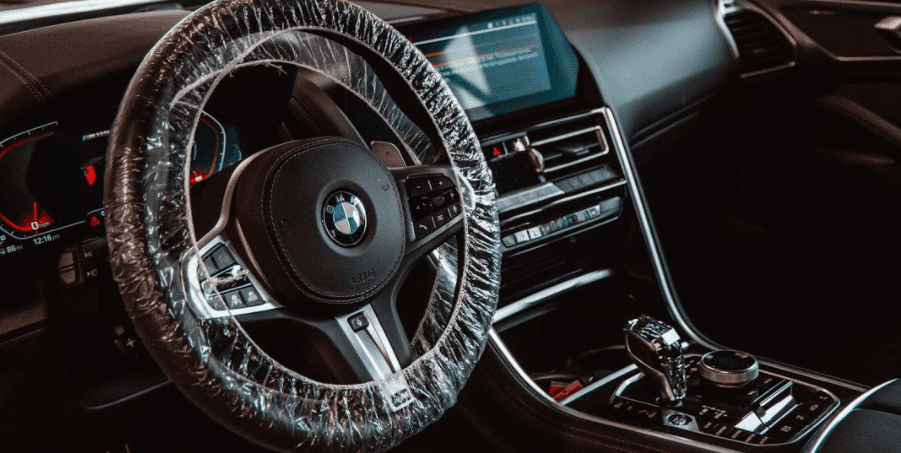 Service Processes
Service Communications
How can I make an appointment or contact my service technician? There has been no change to our appointment Scheduling process.  As always, you can contact one of our Service Appointment Coordinators by calling (888) 874-2022, or on our website by visiting our Online Service Scheduler.  To contact your advisor or technician, please call reception at (888) 734-3331 and we will happily direct you to, or refer any message to the staff member you are trying to reach.
Service Document Processing Process
How do I fill out paperwork and what documents will be needed? With a thoroughly cleaned and disinfected iPad for service repairs and loaner agreements. We may also need you to supply us with some or all of the following: a License, Credit Card, and Insurance Card. We observe social distancing, and take every step possible to limit contact with us throughout the process. You are currently required to wear a mask to enter our facility, and we can supply one for you if needed.
Vehicle Cleansing Process
What is done to protect my vehicle when it is brought in for service?  Before interacting with your vehicle, our valet staff will be equipped with gloves and face masks if needed. Disposable seat and steering wheel covers are installed. Vehicle shifters are covered with bags as well.
Will my loaner vehicle be cleaned before it is given to me? The interiors of our loaner cars are cleaned and sanitized every day by using and following CDC approved cleaning products and procedures. Keys are kept in Ziploc bags and fresh steering wheel covers are installed in every car, every time.
Off-Site Pick-Up and Delivery
What is the process for off-site pick-up and delivery? Our pickup and delivery drivers will be equipped with gloves and if needed face masks, keys are transferred in Ziploc bags. Customer information is collected in advance to limit contact. All interaction will be done outside of the pickup location.
What is the document processing for loaners dropped off at my home? Clean, sanitized loaners are delivered by if needed masked drivers. New protective items such as steering wheel, shift lever, and seat covers are put in place before the transfer.
What should I expect when the driver arrives at my home? When our driver arrives at your house, they will install the same plastic protective covering before driving the car back to the dealership. Once the vehicle arrives at our facility, the next available Service Advisor will contact you and confirm your needed services. Once the approved services are completed, we will reach out to collect payment over the phone.
What is the document processing for my finished car being returned to me?  Your vehicle will be clean, sanitized and delivered by one of if needed masked drivers. Payment is collected in advance to limit contact.

Why Choose a New BMW from Competition BMW of Smithtown?
When you shop at Competition BMW of Smithtown, we always ensure that you have access to the following car-buying benefits:
Visit Competition BMW of Smithtown on 599 Middle Country Road in St. James today to speak with a Client Advisor about leasing or purchasing the perfect BMW for you.  Competition BMW of Smithtown is located near the Smith Haven Mall in Lake Grove, NY and about 15 minutes away from Stony Brook University and 20 minutes from MacArthur Airport!  Call us today at 888-734-3331 to schedule your appointment.  Visit our website to learn more about our inventory of new and pre-owned vehicles such as the 2021 BMW X1, 2021 BMW X3, 2021 BMW X5, 2021 BMW X7, 2021 BMW 2 Series, 2021 BMW 4 Series, 2021 BMW 7 Series, 2021 BMW Z4, BMW M, 2021 BMW i3 Electric Vehicle, and so many more. Additionally, check out our Lease Specials, Service Specials, and Parts Specials.