COMPETITION BMW PARTS SPECIALS
APRIL 2016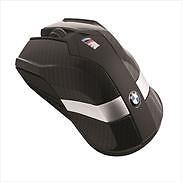 The perfect lifestyle edition to your home computer or laptop!  This stylish, ergonomic wireless mouse is a must for all BMW enthusiasts.  It has a working distance of up to 9 meters, a 3-second idle mode, and a 2-minute sleep mode.  AA battery included.
Regular Price $36.00
Sale Price $29.95 + tax
part number 80-29-2-410-405

These fun little models will zip across your desk, table, or smooth-surface floor!  The pull-back magnetic drive allows for simple operation.  Size is 1:100 scale.  Please visit our Retail Counter in the Parts Department to see available models and colors.
M Coupe Fun Car $3.50 each
part number 80-45-2-357-122
available in White, Orange, or Blue
X6 Fun Car $3.50 each
part number 80-45-2-357-121
available in White, Blue, Red, or Black